Welcome to the North Idaho Pike Association.
The purpose of this group is to bring together people that have a passion for pike fishing, the survival of pike fishing and to become friends on an informal competitive level.
2017 marks our 14th Anniversary
Each year we conduct seven member and one open tournament in lakes and reservoirs of North Idaho and Western Montana. (See our Schedule page) Cash prizes are awarded and recognition given for each tournament. Information about the tournaments and membership in the association is found in our Bylaws on our Resource page.
2017-11-06 18:28:02
The Board voted unanimously to Cancel this years freeze out do to um, freeze out. Stay tuned for a club meeting in the near future.
Posted in:
General
Read more...
0 comments
---
2017-10-31 08:00:08
General
Read more...
0 comments
---
2017-10-31 06:38:06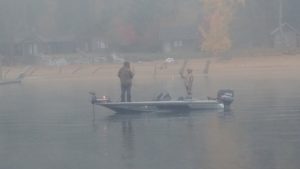 What a great weekend. The Cabin and BBQ were a ton of fun. What great hospitality and some great company to share many laughs, thanks Rob!!! We battled the fog both days, but everyone stayed safe and enjoyed perhaps the 2 most gorgeous  late October days in history.
After struggling on day 1 Super Paul made a comeback to secure youth angler of the year. Patrick and Larry put an exclamation point on the season taking all the bonus points, also catching Thier 4th Big Fish of the season and taking 1st overall with the big creels each day and winning with 10# over second place. I have came too the conclusion that ol Johnny Walker has Ben fishing with them all year. He is a proud pappa!!
Second went to the Wirths who only fished for a few hours on Saturday because of engine trouble but still managed 4fish Rusch day Awesome job. The rest of the standings are posted on the web page.
Thank You all for making the Fall Classic such a great event!!  Hopefully the weather holds out and we can fish on the 11th. I will get a meeting set up to start planning our 15th season!!!!
Posted in:
General
Read more...
0 comments
---
2017-10-22 15:04:40
Letter to Team Captains Oct 15th-2017
Just over 15yrs ago from today I was lucky enough to fish the 1st Hayden Lake Pike Tournament. It was a great experience put on by Bob Volz and Ray Menke, It was supposed to be co-sponsored by the Montana Pike Masters, however they did not show and it was all Bob and Rae. Myself being a spry 28yr old loved the competition and the comradery of the group and thought, hey we have something here. I mentioned it to Bob and he was on board instantly. We got a few friends together and drank some beer and had some pizza and Boom, 14yrs later, here we are.
I left the club for a few years and now Bob has stepped away but the original vision is fully intact. Rules, regulations and many faces have changed along the way. I have met some amazing people through this group, fishing with 16+ of them, and look forward to those I have yet to meet. I have been able to share this with my friends and family over the years, some get it, some don't. I myself still love the challenge and comradery of all the events and look forward to many more years ahead.
Away from the club my passion for Pike fishing is by far my greatest hobby. I have no idea how many people I have been able to share it with but at last count I was at 31 first time pike catchers. I love watching someone use a lure I made to catch a Northern. It's been a way for me to be able to give. Northerns have been weaved into the fabric of Idaho for over 50yrs and I hope that we all work together for the long-term health of this fishery to be able to continue to share this with others.
I Thank you all for sharing this 2017 experience with me.
I wanted to update all teams on the upcoming Fall Classic.
We have been accused of releasing fish. As a response F&G requested that all fish must be killed before weighing to keep our permit. The board voted 5-1 in favor of granting the request. This means that Larry will not weigh live fish for this event. As usual if you do not want your fish other members will happily take them. Also as a reminder we are not permitted to fish Tribal Waters. see bellow for Map.
Rob has invited ALL members to stay at their family cabin Friday and Saturday night. Friday night is 50 cent tacos at One shot Charlies and Saturday is a bring your own meat BBQ and potluck. RSVP please. The cabin can sleep 12 in Beds and lots of room for cots and sleeping Bags.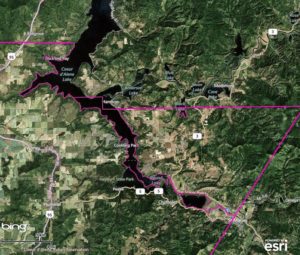 Posted in:
General
Read more...
0 comments
---
2017-10-20 17:08:00
Well HLPT was a success for the 15th straight year. This event spurred the start of this great organization 15yrs ago and hopefully we can continue for another 15yrs. Vince and his Dad pulled off a great comeback Sunday with the events only full creel, Check out the HLPT page for all the details. Lets all thank Erickson/Erickson and Carney/Carney for coming out and tossing lines with us. I will just add that Hayden is top notch trophy fishing right now. 8 out of 29 fish caught over 10#s and well over 50% hit 30″.
As most of you know we have had false allegations against our club and we have been asked to take extra measures as we move forward. I will be sending an email out that will go into detail about the slight changes and it will include a lake map that will help to reduce any confusion about our boundaries. It will also include the details of our Sat BBQ and Lodging for the final point event of the year.
Most of all I would like to thank each of you for your confidence in me as your Chairman. I love this group, and for the most part consider you all as an extended family. I take pride in finding facts and options in the opportunities we have as a club. Most of all I am confident that there is no fisher person that is more passionate about Northerns than myself, and I admire that many of you share this passion equally. Thank You All.
Posted in:
General
Read more...
0 comments
---