Welcome to the North Idaho Pike Association.
The purpose of this group is to bring together people that have a passion for pike fishing, the survival of pike fishing and to become friends on an informal competitive level.
2013 marks our 10th Anniversary
Each year we conduct seven member and one open tournament in lakes and reservoirs of North Idaho and Western Montana. (See our Schedule page) Cash prizes are awarded and recognitions given for each tournament. Information about the tournaments and membership in the association is found in our Bylaws on our Resource page.
2013-12-02 15:24:41
Club members and family come join us this Saturday , Dec 7th at wildcat pizza 3:30pm.
All you can eat pizza $8 adults, $6 kids. Lots of door prizes.
Going to be a blast.
Posted in:
General
Read more...
0 comments
---
2013-10-31 11:52:26
Congratulations to Joshua and Nathan making an end of season push to win the 2013 NIPA points championship- way to go. Brock and Randy took second, Chad and Mike took 3rd just barely edging out Bob and Jeff
What a year, 8 teams were in the points race headed into the final event. We finished with 18 teams, with the Reagans joining us. Our banquet will be Dec. 7th. I will let everyone know the time and place. Thank you all for making this year a blast. If you have any ideas for next year let me know, my goal is to be ready for next year by Jan 1st. Also—-Sponsors-sponsors sponsors…. We need them-  Its never a bad time to ask people or companies for support. Our sponsors are key. Please support them in return.
Thank You,
Brock
Posted in:
General
Read more...
0 comments
---
2013-10-05 08:33:08
Congratulations to Anthony and Tim on an outstanding 2 day creel of 49lbs 11ozs on Hayden Lake. They were the only team to weigh in full creels each day. Dustin and fill in Willie took 2nd with 36lbs 5ozs thanks to Dustins first 20#er-Awesome. 3rd went to Nate and Joshua with 29lbs 12ozs. Justus/Kevin, Rick/Gary, and Bob/Mark had the only other full creels- Great Job to all 17 teams making this a fun event and special thanks to Bob Volz for putting it all together..
Don't forget Oct 9th meeting at wildcat at 6:00pm
The points race is CRAZY close with a log jam at the top———-it all comes down to the Fall Classic Oct.27th at Rocky PT.
Posted in:
General
Read more...
0 comments
---
2013-05-17 18:36:25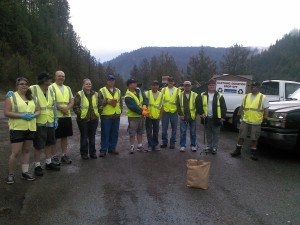 On June 29th 15 members braved the lightning and rain to pick up 34 bags of trash on each side of our 2 miles of I90 near wolf lodge bay.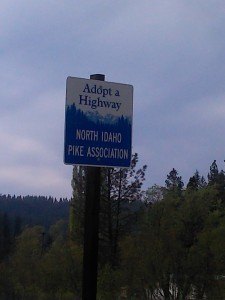 Posted in:
General
Read more...
0 comments
---
2013-02-23 21:02:57
I just wanted to let our sponsors know how much we appreciate them. Without their generous contributions we could not function. From all the members of the North Idaho Pike Association, Thank You.
Posted in:
General
Read more...
0 comments
---